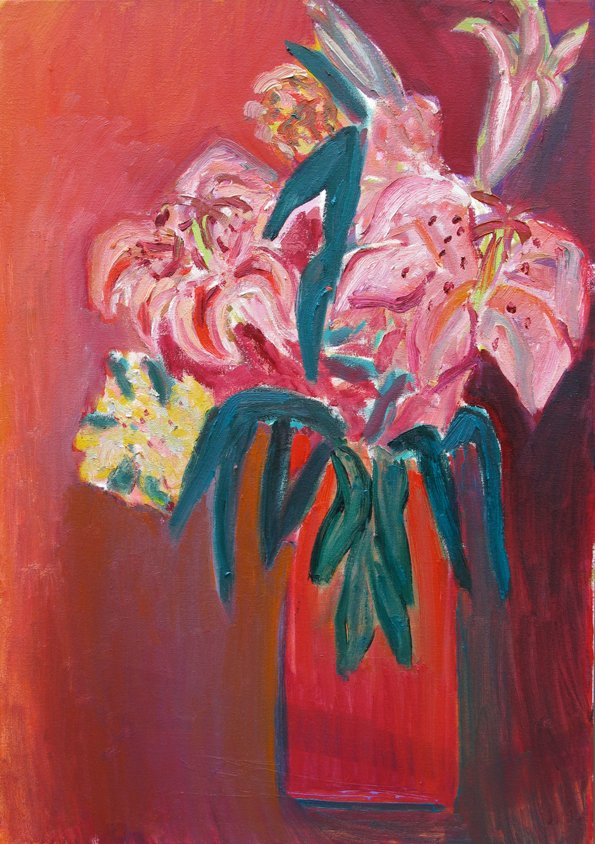 Margy is showing a range of recent paintings at the View Tube from 24th October until early in 2015.
http://www.theviewtube.co.uk/the-greenway/ 
Margy Creber Supporting Statement
These paintings are a conversation with the natural world and an enjoyment of the freedom to express. The discipline of painting is life enhancing and is a compliment to the rigours of my everyday work managing a Children's Centre in Tower Hamlets.
The image of the head in the paintings has emerged through appropriating and meditating on well-known portraits of the Renaissance era. As an artist curious about and inspired by artists of the past, I often study the works of Van Gogh, Bomberg, Bonnard and Mathew Smith, among others. Studying the works of these great painters has influenced me to explore emotion in interpreting subject matter.
My painting is also informed by observing familiar objects in the studio environment and in the discipline of observing 'still life' objects such as chairs and flowers, I seek to develop pictorial motifs that portray something characteristic about the object and also pervaded with my emotions.
In these paintings I explore the dichotomy between a firm and purposeful line and areas of translucent or heavily impasto paint, the line mediating between the familiar image of the object and the emotional language of the paint.